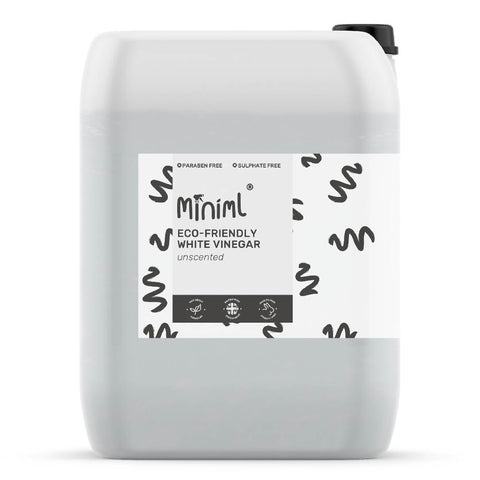 White Vinegar - BULK 5L
Traditional white vinegar has many uses, including, being used as a rinse aid, to clean glass. brighten small appliances, clean your kitchen, keep laundry soft and freshen up after pets.

Great to use on glass, floors, work surfaces, bathrooms etc.
Product features:
Powerful on dirt, grime and grease.
Uses include rinse aid, glass cleaner, limescale remover, multi-surface cleaner, laundry softener, stain remover and pet odour remover.
Eco-Friendly and Readily Biodegradable.
Unscented
Vegan, Cruelty-Free and British Made.
Free from: VOC's, chlorine bleaches, solvents, lanoline, sulphates, parabens and phosphates
Safe for septic tanks if used as directed.
Effective in both hard and soft water.
Bulk refills collected, cleaned and refilled.
Made in Yorkshire, UK
Instruction for use:
Spray directly onto the surface and wipe clean.
This product is not edible vinegar + do not use on stone, marble or granite surfaces.
Ingredients:
Aqua**, 5% Acetic Acid*. *Denotes plant or mineral origin. **Water from The Yorkshire Moors.