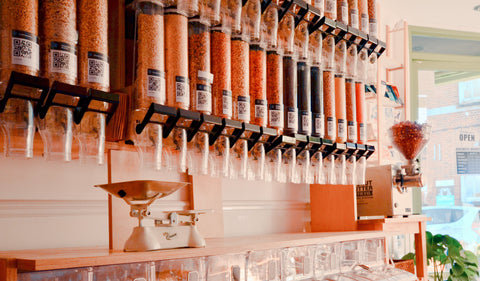 STEP 1.  Place any empty container on the scale and write the weight on the container using our pens and paper tape.
STEP 2. Fill your container with the product.
STEP 3. Place the container back onto the scale, write down the final weight. Bring container to the checkout counter to calculate and pay for your product!
We advocate reusing over recycling so please bring along any container you like, from glass bottles and jars to plastic containers. Anything that can be weighed, can be used!
If you forget to bring a container of your own, feel free to use one of our paper bags (available in two sizes) which are made from recycled paper and are fully compostable with your food waste at home. Please skip to step 3 once you've filled your paper bag.
Download our Scan, Weigh and Pay app for iOS and Android. Register and start shopping.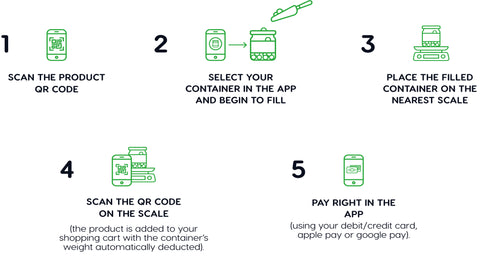 How does UK shipping service work?
Free shipping on all orders over £100 within London. For other UK towns and cities, we offer a standard shipping rate at £5.45, Express shipping is available at a cost of £7.45.
A standard shipping rate £8.45 will apply on Heavy orders 5kg+
For more information regarding our delivery services please visit our Shipping Policy.
How does local delivery service work?
Free delivery to all N3, N2, N12, NW7 postcodes orders above £30
NW4, NW9, NW11, N10, N11, N20, N21 postcodes will qualify for free delivery on orders above £50.
All orders will be processed in 1-2 business days. Orders placed over the weekend will be processed on Tuesday. Most orders will be delivered in 2 working days.
Free delivery to all N3, N2, N12, NW7 postcodes orders above £30
Any NW4, NW9, NW11, N10, N11, N20, N21 postcodes orders below £50 a £8.45 standard rate will be applied on heavy orders.
For other London postcodes and other UK towns and cities, please enquire at hello@impactstore.co.uk
What sort of packaging do you use?
Dry Goods
Products for delivery like dry goods are packed in biodegradable and compostable unbleached recycled paper bags.
Nut butters, honey, vinegars and cooking oils are sent in glass jars/bottles.
Cleaning Liquids & Personal Care Products
Cleaning liquids are sent in recyclable and reusable glass bottles. Personal care products are sent in recyclable and reusable plastic bottles. This is for safety, rather than having glass in the bathroom.
We deliver all our orders using 100% reused and recyclable cardboard boxes. When necessary we also use compostable recycled cardboard bubble wrap from previous deliveries.
We are always working hard to find ways to reduce our waste and carbon footprint. We are continuosly striving to be better.
Do you offer closed loop delivery?
Yes, we do! Only for local delivery service.
Liquid products
When placing your first order, please make sure you purchase the pre-filled bottle option, then on your second order you can buy the refill quantity you need and we will swap the bottles around every time we make a delivery.
We only charge the cost of a bottle supplied to us for all pre-filled bottle/jar products, this cost varies from £0.50 to £2 (does not include amber bottles).