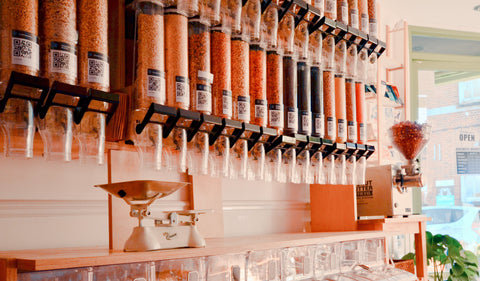 ABOUT US
Impact store is a zero waste shop offering bulk food without plastic packaging, sustainable and reusable products. We want to help people build a more sustainable low waste life.
Our mission
Help to save the environment by disrupting the concept of wasteful convenience, by trying to make it more convenient for everyone to consume less, waste less and throw away less.

Our ethos
We believe that small actions carried out by many will have a positive impact on our planet. At our shop, we promote and celebrate small eco changes by offering a more conscious way to shop and use of our life resources. We focus on Sustainability, all our products are sustainably and ethically sourced; grown or locally made when possible, made from natural ingredients, free from harmful chemicals and that have a lower carbon footprint. Although we are not an organic shop most of our products are organic.
To help fight single use plastic most food products are supplied to us plastic free; in bulk and in brown paper sacks and delivered with reused or very minimal packaging. We also work with companies that offer closed loop system, allowing us to return large containers to be cleaned and reuse again and again.