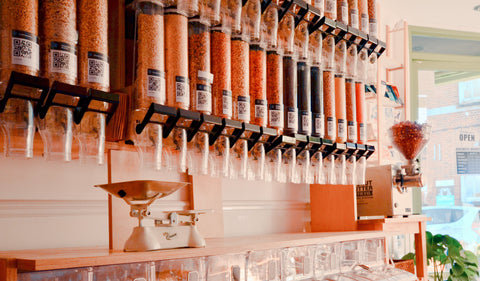 WAYS TO SHOP WITH US

> In-store
Download our app for a faster and contactless checkout. If you do not have a smartphone or simply prefer to shop in a more traditional way, no worries, we are happy to assist you.
> Free Jar Drop Service
In a hurry or looking to get all your containers filled at once? Why not try our jar drop service.
Here is how it works:
Order online
On your shopping cart type in Add order notes: "Jar Drop Service"  and select Local pick up as a shipping method at the checkout.
Drop off your containers
Hand your containers to one of our staff members. You can label your containers before or at the store.
We will fill your container for you
Our team are here to help.
Collect your container
We will let your know once you order is ready to collect. 
Note: Please make sure all containers are clean and empty whenever possible.
> Home delivery
Free local delivery to all N3, N2, N12, NW7 postcodes orders above £30
NW4, NW9, NW11, N10, N11, N20, N21 postcodes will qualify for free delivery on orders above £50.
All orders will be processed in 1-2 business days. Orders placed over the weekend will be processed on Monday. Most orders will be delivered in 2 working days.
 Other London areas and UK orders
Free shipping on all orders over £100 within London. For other UK towns and cities, we offer a standard shipping rate at £5.45. Express shipping is available at a cost of £7.45.
A standard shipping rate £8.45 will be applied on heavy orders 5kg+. Please enquire at hello@impacstore.co.uk for more information.
For more information regarding our delivery services please visit our Shipping Policy.
Free local delivery to all N3, N2, N12, NW7 postcodes orders above £30
Any NW4, NW9, NW11, N10, N11, N20, N21 postcodes orders below £50 a £8.45 standard rate will be applied. 
For other London postcodes and other UK towns and cities, please enquire at hello@impactstore.co.uk

> Closed Loop
If you are ordering a liquid product for the first time, please purchase the pre-filled bottle option, then on your second order you can buy the refill quantity you need and we will swap the bottles around every time we make a delivery.
We only charge the cost of a bottle/jar supplied to us for all pre-filled bottle/jar products. This cost varies from £0.50 to £2 (does not include amber bottles).
> Free Click & Collect
Place your order online and our team will let you know once it is ready to collect from our physical shop. Usually this will be within a day, depending on the time you place your order.
Thank you for shopping at Impact Store
*