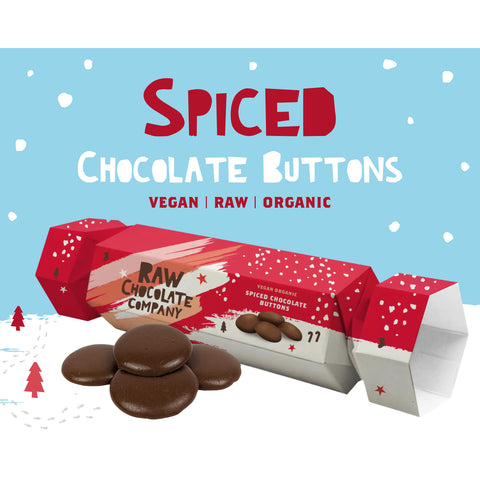 Organic Spiced Chocolate Buttons Cracker - Raw Chocolate Company
A cracker of a treat, plump with Santa's favourite 'must have a guzzle': Winter-warming Spiced M*lk Chocolate Buttons that pamper your palate
Ingredients: 

Cacao butter, coconut sugar, cacao mass, hazelnut paste, lucuma, gluten free oats, tigernut flour, mixed spice (cinnamon, clove, allspice, coriander, ginger, nutmeg, cardamon, mace) (1.3%), cinnamon, orange oil.
Allergens: For Allergens see ingredients in bold.
It May also contain other nuts
Made in UK.

Packaging: The bag containing your chocolate is home compostable, all of the other materials can be recycled.