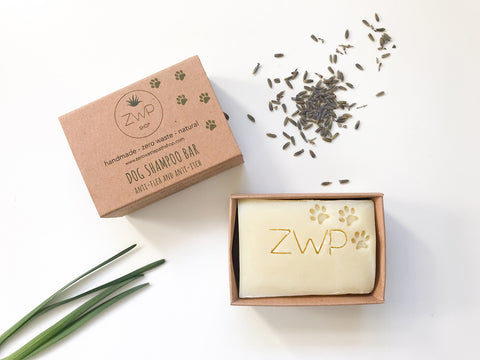 Dog Shampoo
£4.00
£5.00
you save £1.00
This natural and delicate dog shampoo bar contains Neem oil, which is deeply moisturising, the small amounts of essential oils provide a light scent.
Please avoid using this shampoo bar on puppies or pregnant dogs
Ingredients:
Sodium Olivate (Olive oil), Aqua, Sodium Cocoate (Coconut Oil)*, Sodium Castorate (Castor Oil), Sodium Shea (Shea Butter)*, Sodium (Neem Oil), Sodium Jojobate (Jojoba Oil), Lavandula Angustifolia (Lavender) Oil, Cymbopogon Schoenanthus (Lemongrass) Oil. 
Within Essential Oils: Citral, Geraniol, Limonene, Linalool
*Certified Organic
Properties
Olive oil: Highly moisturising and hydrating, highly penetrable, does not clog pores
Coconut oil: Moisturising, in saponified products it helps to increase lather
Castor oil: Highly moisturising
Shea butter: Highly nourishing and moisturising, perfect for extremely dry skin
Neem oil: Neem oil is an amazing gentle and deeply moisturising oil
Jojoba oil: Helps with moisture retention
Glycerin: Naturally occurring in soap-like shampoo bars, as it is a byproduct of saponification, it has great moisturising properties
Additional info
Weight: ~100g
Packaging: 100% recycled, unbleached cardboard. Recyclable and/or compostable.